SRV Media

New Delhi [India], September 12: Stelda, a leading provider of packaging-solutions">sustainable packaging solutions for shipper cartons and mid-mile and last-mile supply chain journeys, was a key participant in PackPlus, India's biggest event for packaging, converting and supply chain. This event was held from August 10 to August 12, 2023, at Pragati Maidan in New Delhi.

Stelda, an enterprise headquartered in Mumbai, India, has successfully partnered with brands and companies in transforming to packaging solutions that deliver improved strength and increased security. Stelda eliminates the need for plastic tapes, straps, and shrink wraps by providing an alternative glue-sealing solution for shipper cartons. These changes help businesses reduce operational costs, pilferage, and damage losses by over 30%. These solutions are also a significant booster to the sustainability agenda of businesses.

According to a market report, the B2B packaging market in India was valued at USD 50.5 billion in 2019 and is anticipated to grow to USD 204.81 billion by 2025, with a remarkable CAGR of 26.7% from 2020 to 2025.packaging-sector.php" rel="noopener" target="_blank">[1] The pharmaceuticals and food and beverages industries primarily drive this market growth.

"Stelda, as a part of the Bindwel group, had been at the forefront of hot melt adhesive technology for over three decades. We have worked hard to bring this technology past its benefits to end-of-line packaging. When shipper cartons are packed using the systems from Stelda, brands save considerably by reducing transit damages and pilferage. Also, we can help reduce the corrugate used in these boxes", mentioned Pallippuram Sajith, Managing Director of Stelda. He also added that Stelda packaging solutions help reduce or eliminate single-use plastics and are the most sustainable solution available for end-of-line packaging today. Our dedication to customising to unique client requirements has also led us to develop salient add-ons for existing machines of customers, driving us towards modular and automated and being identified as category creators ."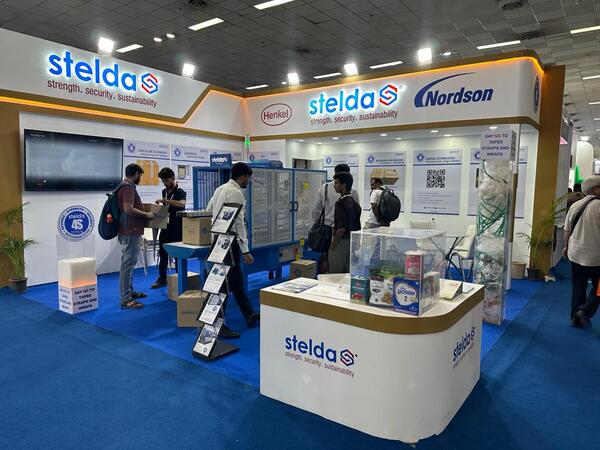 Stelda is a preferred case sealing-packaging solution provider for companies in snack foods, automobile ancillaries, heavy and fragile goods manufacturing, dairy, FMCG, and export-oriented sectors.

Packplus, organised by RX India, this year was themed at emphasising the significance of sustainable packaging as a key priority in the industry. Over 250 local and international exhibitors participated in the event.

"The teams at Stelda have always believed in demonstrating the solution from the front and hearing the feedback where it matters the most- on the shopfloor, at the distribution centres and with distributors within the supply chain. The STELDA trial as a concept is our commitment to give a direct experience of our solution, either at Stelda premises or at our customer's premises. The Pack Plus exhibition has been a good place for us to meet many leaders who have encouraged us by supporting us in the Stelda trials." shared Sadashiv Nayak, a founder and director at Stelda.

For more details about Stelda and its solutions, visit their website at https://www.stelda.in/ or email info@stelda.in

(Disclaimer: The above press release has been provided by SRV Media. ANI will not be responsible in any way for the content of the same)